Luxaflex zonwering
Onze passie ligt bij zonwering. We geloven dat elke ruimte verrijkt kan worden door het juiste type zonwering. Zo maakt u een huis gezellig, sfeervol en privé met shutters, blinds en bijvoorbeeld gordijnen. Spelen met licht kan u veel brengen. Heeft u bijvoorbeeld graag een frisse, lichte slaapkamer maar wilt u liever niet dat mensen recht naar binnen kunnen kijken? Met shutters van Luxaflex heeft u dat direct opgelost:
"Zakelijk of privé zonwering: maak sfeer, controleer de temperatuur en geniet van privacy."
Maar ook zakelijk is er veel te winnen met zonwering. Gaat u maar eens na hoe veel uur u op werk spendeert. Maak 'business' ook een beetje 'pleasure' met een mooie inrichting en bijpassende zonwering. Naast de look and feel kunt u ook regie nemen op de temperatuur op de werkvloer. Onderstaande shades laten zien hoe zonwering een zakelijke ruimte, zoals een vergaderruimte, om kan toveren tot een sfeervolle, koele kamer. Sluit de shades meer wanneer u niet afgeleid wilt worden door de zaken die zich buiten afspelen. Open de shades voor een frisse, lichte kamer.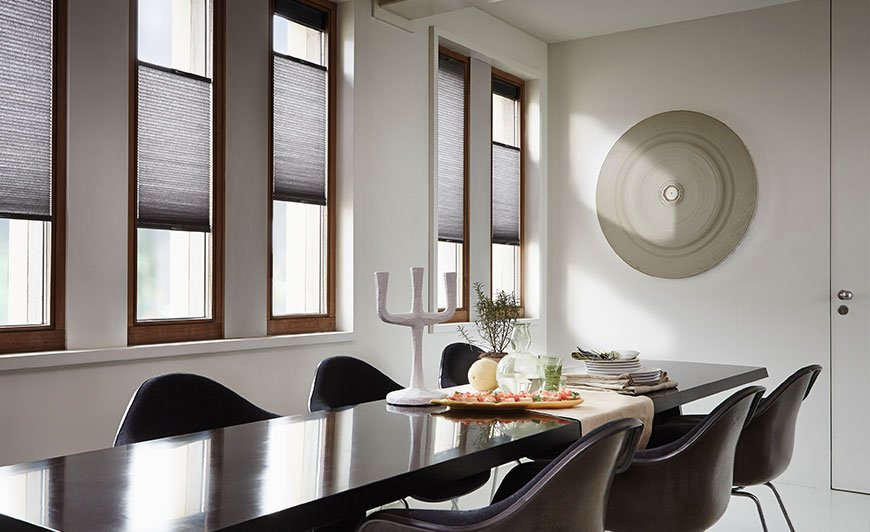 Duette shades Luxaflex